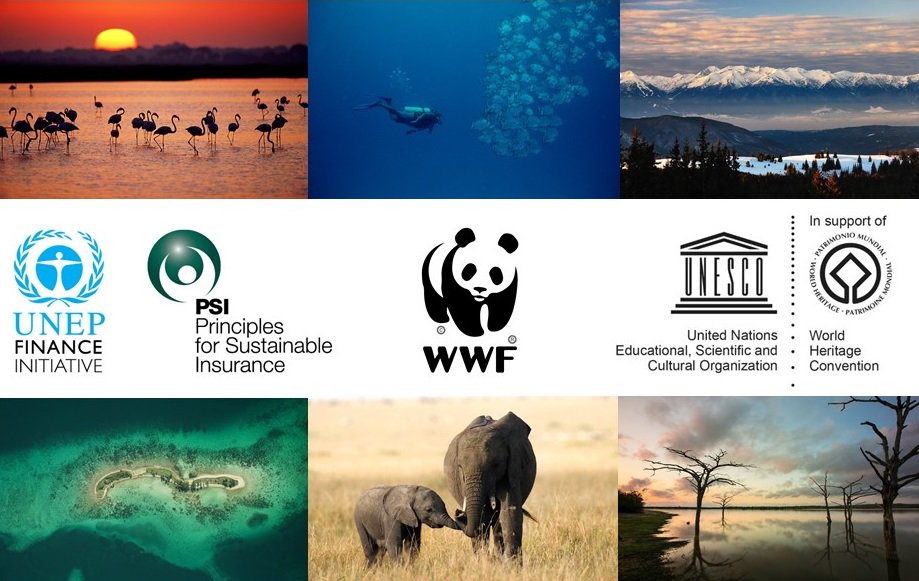 UN Environment's Principles for Sustainable Insurance Initiative partner with WWF and the UNESCO World Heritage Centre to launch global insurance industry commitment to protect World Heritage Sites
Manama, Bahrain, 3 July 2018—UN Environment's Principles for Sustainable Insurance Initiative (PSI)—the largest collaborative initiative between the United Nations and the insurance industry—in partnership with WWF and the UN Educational, Scientific and Cultural Organization (UNESCO) World Heritage Centre, have launched the first-ever global insurance industry statement of commitment to protect the outstanding universal value of World Heritage Sites.
The Statement covers the insurance industry's risk management, insurance and investment activities and commits signatories to take various actions in order to prevent or reduce the risk of insuring and investing in companies or projects whose activities could damage World Heritage Sites. It was launched in Manama, Bahrain during the 42nd Session of the World Heritage Committee. The Committee meets yearly and implements the UNESCO World Heritage Convention.
"The UNESCO World Heritage Centre fully supports this landmark commitment by the insurance industry to protect World Heritage Sites. We encourage insurers around the world to be part of this global commitment as the permanent protection of these places is of the highest importance to all of humanity," said Mechtild Rössler, Director of the UNESCO World Heritage Centre.
"By managing risk, the insurance industry has protected society and its assets for generations. Today, the industry's risk management services, insurance solutions and investments are powerful ways to tackle increasing economic, social and environmental challenges. With this global commitment, insurers are speaking with a united voice to protect the priceless and irreplaceable assets that make up our world heritage for present and future generations," said Butch Bacani, who leads the PSI at UN Environment and who launched the Statement in Manama.
"With almost half of natural World Heritage Sites threatened by harmful industrial activities, this momentum should help encourage the wider financial community to follow the insurance industry's leadership and commit to action," WWF International Finance Lead, Margaret Kuhlow added.
WWF became a supporting member of UNPSI at the end of 2017 following engagement by WWF Switzerland and WWF-UK Sustainable finance teams and the WWF-SIGHT team. This included a presentation by David Patterson at UNPSI Market Day in October 2017 and several meetings and demonstrations of the WWF-SIGHT tool. We discussed how insurers should in future systematically scan for overlap of natural World Heritage sites with extractives concessions using tools and analytics, such as demonstrated by GIS and ownership analysis conducted using SIGHT.
WWF-Switzerland colleagues  together with the WWF-SIGHT team will work with UNPSI and share lessons learnt from the World Heritage and extractive risk screening we have developed using WWF-SIGHT.  This engagement has the aim to support the development of environmental risk screening tools for the insurance and finance sector.
The Statement can be signed as a "signatory company" by insurance and reinsurance companies and intermediaries, and other companies that provide insurance and reinsurance products or services. It can also be signed as a "supporting institution" by insurance and reinsurance associations, institutes and initiatives; insurance regulatory and supervisory authorities; civil society organisations; academic institutions; and other institutions that work with the insurance industry.
The latest list of signatories can be found on the project website. Organisations who would like to become a signatory should e-mail psi-world-heritage@unepfi.org.