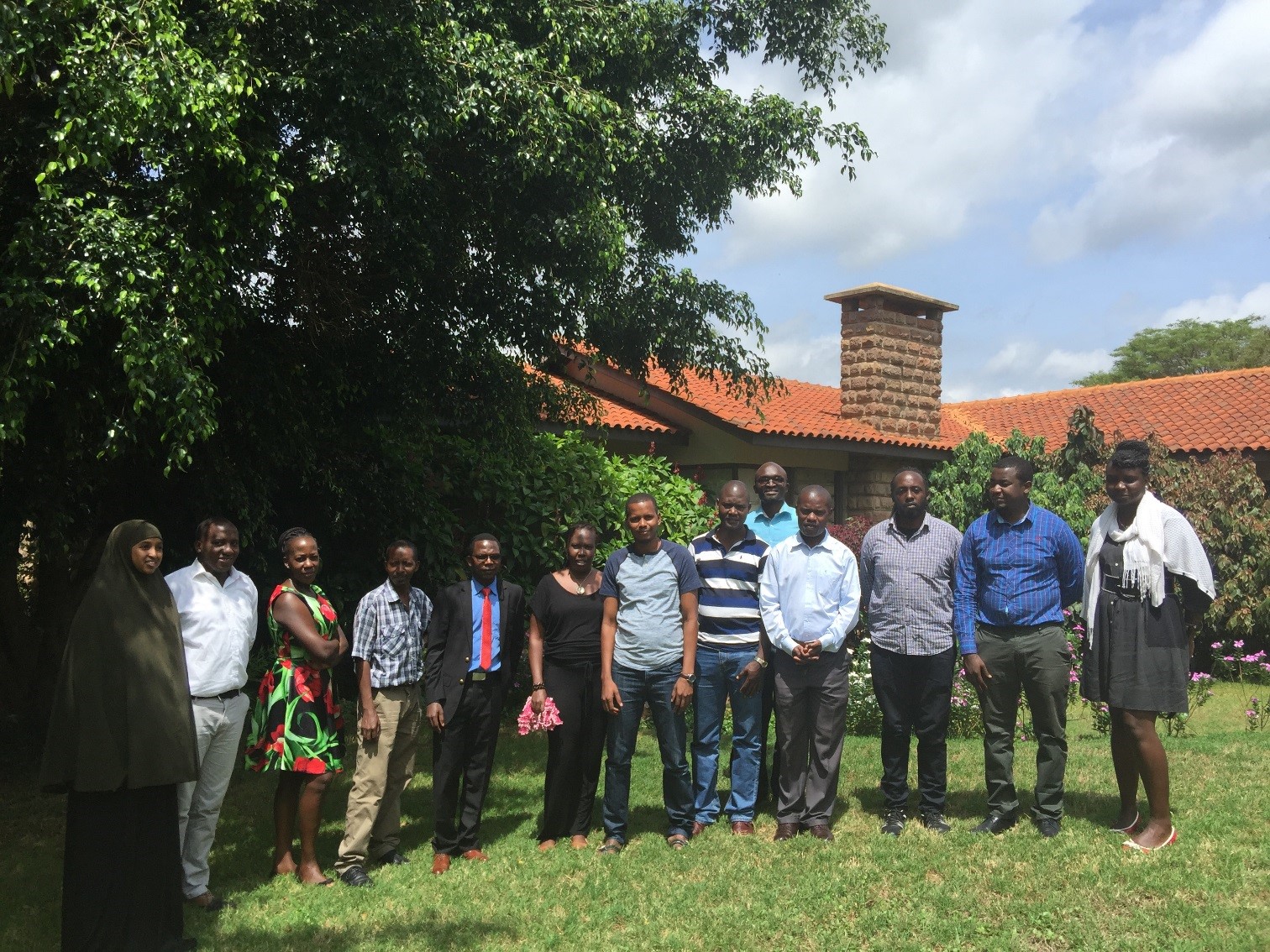 WWF-Kenya organised a 2 day workshop form 25th-28th May 2017 at the Sagana gateway led by Sumaya Mohamed and Siro Abdallah. The objective of the meeting was to enhance the capacity of the CSOs on evidence based advocacy tool to aid spatial planning using WWF-SIGHT. The meeting brought together 11 CSOs from the extractive sector.
The aim of this workshop was to examine the proposed exploratory drilling project in blocks L4 and L13, outline associated potential environmental and social threats and propose policy recommendations with the logic that early identification of possible impacts promotes environmental sustainability in that anthropogenic factors do not interfere with natural environment but blends with it creating harmony.
Using WWF-SIGHT the workshop team highlights key environmental concerns, as well as the social implications. The recommendations made target to engage key stakeholders in supporting policy measures required for a responsible development. Such stakeholders include among others; project affected communities, citizens and the civil society organizations through which they organize; private sector, development partners, the various cross-sectoral government ministries and departments responsible for policies and decision making towards managing environmental and social issues associated with oil and gas exploration.
Oil exploration blocks L4 and L13 whose operations are currently midway lie in the Juba basin, of coastal Kenya. They are both onshore and off shore meaning they traverse both land, the coastal shelf and deep waters. Combined they cover an estimated area of 7,814.71sqkm (L4 being the largest at 5,794.81sqkm and L13 covering 2,019.9 sqkm) see figure 1.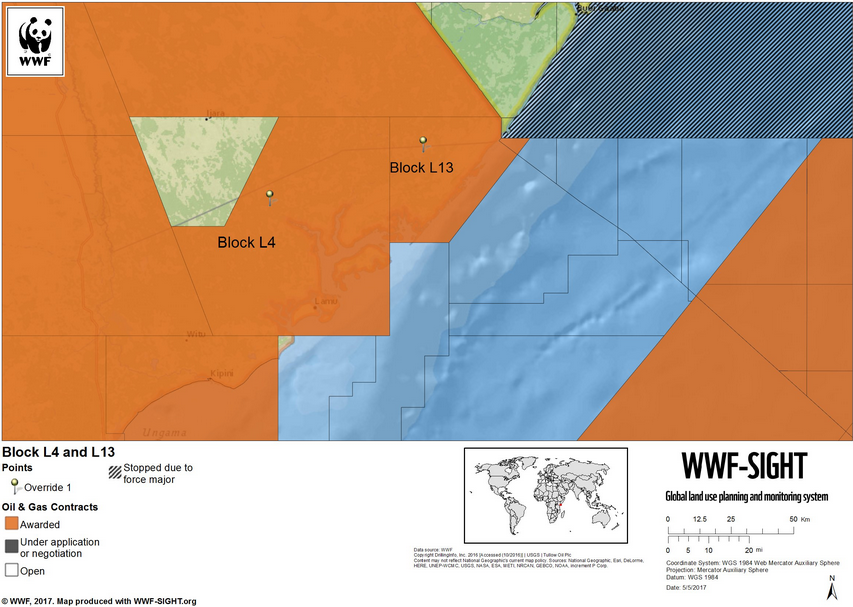 Midway Resources International (MRI) owns 75 % interest in the production sharing contract (PSC) of both blocks through its wholly owned subsidiary Zarara. Swiss Oil Holdings (SOHI) Gas Lamu Ltd has 15 per cent stake in the acreage and National Oil Corporation of Kenya (NOCK) holds 10 per cent carried interest of the government. The PSC signed on December 3, 2008 had (SOHI) Gas Lamu Ltd having 90 per cent equity and NOCK 10 per cent carried interest. SOHI on April 4, 2011 farmed out its 75 per cents to Zarara. Ministry of Energy on November 27, 2015 granted Zarara 18 month licence extension through to June 3, 2017 to the first additional exploration period of PSC for the two blocks.
Hydrocarbons exploration and production activities have potential to directly or indirectly affect the community and national reserves through loss of natural assets as the acreage covers key terrestrial and coastal protected areas. The result of the overlap analysis is positive and indicates that the two blocks overlaps 8 IUCN protected areas of which three (3) are National reserves, five (5) are community nature reserves . In total, block L13 bares 1,494 sq.km while block L4 accounts for 891 sqkm cumulative threat areas on protected areas accordingly.
The oil and gas explorations present a unique opportunity to the key stakeholders involved to put into action their commitment to safeguard nature and people during the development of the oil and gas sector in the region. In order to realize this in a sustainable manner, lots of effort should be placed on proper assessment of the various environmental and socio-economic risks associated with this undertaking. It will also require the cooperation between central and county governments, private sector and civil society as well as close consultations and engagements with affected local communities at each step of the exploration project.